This is the 2009 edition of the North American Summer Psytrance Festival Guide.
---
May
May 22/23/24 :: Junction 604 (Canton, Ohio)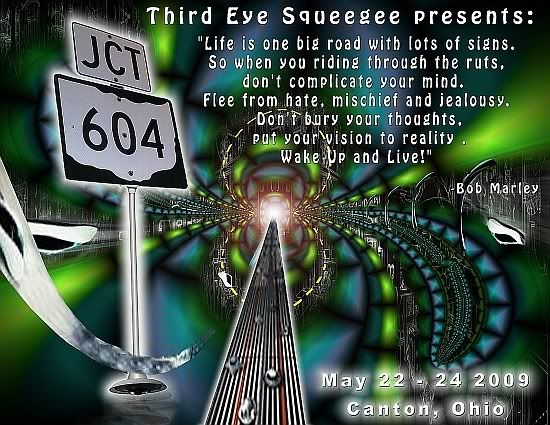 The 2009 summer festival season subjectively begins on Memorial Day weekend with Junction 604 in Canton, Ohio.
---
May 29/30/31 :: Sacred Earth (Black River Falls, Wisconsin)
---
June
The Gaian Mind has evolved into a new location at the psychedelic summercamp known as Ramblewood.
---
June 12/13/14 :: Gemini (Belden, California)
Gemini has secured itself as the longest running yearly psy trance festival on the west coast. Much forethought has been put into a balanced and well-flowing lineup covering the spectrum from tribal to full-on to deep night time psychedelic. We invite you to come and partake with us in Belden, CA. The venue is a literal town and is perhaps the most comfortable and beautiful venue in the states. Situated on the Feather River, the location includes a country market, a full service restaurant, a full bar, cabins, a riverside beach, swimming hole, shaded dance floor, plenty of shaded camping and frequently cleaned bathrooms with running water. This is a free gathering and gift to the trance community, we just ask you come, bring your best smile and dance your ass off.
---
June 19/20/21/22 :: Entheos (B.C.)
Entheos is a next-generation outdoor festival created by a loving crew of enthusiastic volunteers that celebrates our collective creativity, interconnectivity, and innate divinity at the time of the Summer Solstice. A wide variety of electronic music ranging from trance to dubstep and from mellow grooves to ambient soundscapes is presented on two stages.
Entheos provides Workshops and a Conference for attendees to develop new skills and have time to commune with their brothers and sisters in a positive environment. This year we have some very special knowledge to impart, and as we gather in one of British Columbias most sacred valleys, we look forward to sharing them with you.
---
July
July 9/10/11/12 :: Orb Festival (Afton, New York)
Alladin Project's ambitious summer festival at Echo Lake is in its third year. It continues its reputation of a fat lineup containing dozens of big names in psytrance.
---
The year 2009 will be marked by the 5th edition of the Space Gathering Festival (Sahasrara) organized by Tribal Prophecy. The cause of the Dalaï Lama will be brought forward by the donation of all profits + 5$ by ticket – this money will be given directly to the Foundation of the Dalai Lama. Space Gathering is happening in Nature, from July 10th to July 13th, 2009. Considering the yearly increase of 100 participants that the festival has been registering since it's beginnings, we are expecting about 800 people for the 2009 edition. The chosen emplacement, a magnifiscent camping site right by the Ste-Agathe falls, is located about 40 miinutes away from Quebec city.
In order to join several cultures sharing a same ideal, the festival is composed of a few different stages : a stage on the beach with a Goa feel, featuring live performances and dj sets of electronic music such as psychedelic trance, goa, progressive, electro, tribal and house; a stage with a more relaxed feel, presenting worldbeat music, reggae, downtempo, live bands, etc; a meditation temple, also used for workshops and conferences on a variety of subjects related to the vision behind this event; a cinerama featuring movies and documentaries about subjects such as spiritual worlds, ecology, culture, etc, Kiosks selling CDs, clothing, health food, local products, etc, a space for kids with activities planned especially for them; taking inspiration in the Tibetan spirituality, each path between the different areas will be dedicated to a bardo and will enable a conscientisation to the great steps of our existential process.
---
July 24/25/26/27 :: Eclipse Festival (Ste-Thérèse-de-la-Gatineau, Quebec)
This is probably the biggest, smoothest, and slickest, festival in North America, many years running and better each time.
---
August
August 6/7/8/9 :: Desiderata(Afton, NY)
YogiBogeyBox is organizing its first festival on the heels of an impressive string of well-produced trance parties in NYC.
"And whether or not it is clear to you, no doubt the universe is unfolding as it should… And whatever your labors and aspirations in the noisy confusion of life, keep peace in your soul. With all its sham, drudgery and broken dreams; it is still a beautiful world. Be cheerful.

STRIVE TO BE HAPPY."

— Max Ehrmann, Desiderata
---
August 7/8/9/10 :: Shambhala (Salmo, B.C.)
I have not visited Shambhala yet, but from what I have seen and heard, it might be the most magical festival on the continent.
---
August 7/8/9 :: World Bridge (Deerfields, North Carolina)
This darkpsy festival is in its fourth iteration this year. Visiting Asheville is like visiting family — in this case, a family of darktrance dancing fiends! 🙂
---
September
September 18/19/20 :: Equinox (Deerfields, North Carolina)
This is the other big Asheville psy festival, running since 2005 (called Pow-Wow that year).
---